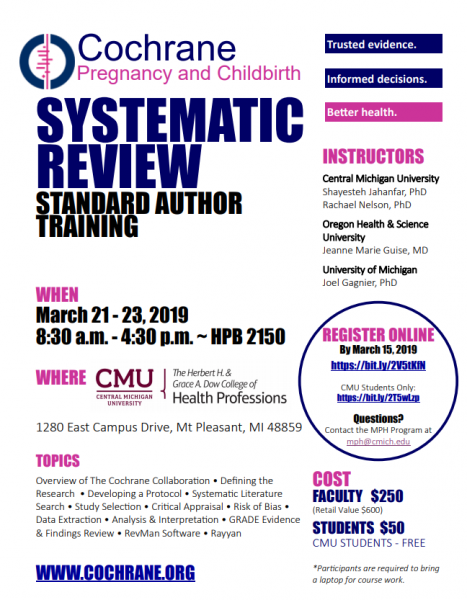 Systematic Review Standard Author Training
March 21 to 23, 2019

Health Professions Building

Mount Pleasant, Michigan, USA
Deadline to apply: March 15, 2019
Open to any individual interested in systematic review production, particularly regarding Cochrane systematic review.
Objectives:
Overview of the Cochrane Collaboration and Systematic Reviews

Defining the Research Question and Developing a Protocol

Systematic Searching of the Literature

Study Selection

Critical Appraisal and Risk of Bias tool

Data extraction

Analysis and Interpretation

GRADE, Summary of Findings tables & Completing Your Review

RevMan

Rayyan
Cost: $50-For students/trainees at graduate level only (applicants should provide a proof of their status, e.g., a student ID, a letter from their supervisor or school); $250-For faculty/practicing clinicians/researchers
Lodging
: 
Workshop participants are responsible for their own lodging. 
Travel
:
Three major airports around Mount Pleasant include Saginaw airport, Lansing International Airport, and Grand Rapids International Airport.